LOCATIONS
Kansas City's title company since '57. (That's 1857.)
8002 N. Oak Trafficway, Suite 102
Kansas City, MO  64118
Phone: (816) 984-8000
Fax: (816) 389-8475
1304 NE Windsor Drive
Lee's Summit, MO  64086
Phone: (816) 984-8000
Fax: (816) 984-8002
4701 W. 110th Street
Overland Park, KS  66211
Phone: (913) 327-1100
Fax: (913) 953-8497
330 Delaware
Leavenworth, KS  66048
Phone: (913) 651-7100
Fax: (913) 651-8434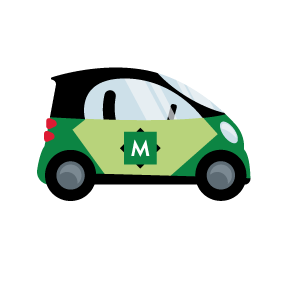 Smarter title work. Smarter closings. That's a smarter way to do business.
There's a good chance you've seen our little green cars buzzing around the area. Don't let their size fool you. Each one is a powerful tool of convenience for your customers. Because in addition to having multiple locations for traditional closings, we also offer SMARTER closings at no extra charge. 100% mobile, on site settlement services to meet the needs of today's busy professionals and their clients.

McCaffree-Short Title Company has provided Escrow Services, Title Insurance and Closing Services to the Greater Kansas City area since 1857.
Licensed to engage in the business of insurance in Kansas and Missouri.